Back in the mid 1970s, two friends took a casual job helping a small business change locations. The experience was so successful (and such fun) that the business' owner suggested that they keep up the good work for others who needed a move.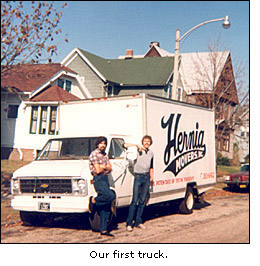 The lightbulb which went on in the two guys' heads was the genesis of Hernia Moving's founding in 1975.

The first official Hernia move was done for a local university professor, who changed apartments with a record collection that was (by his own admission) bigger than that of most radio stations. He was so pleased with the result that we moved him to Minnesota 18 years later!

Since then, Hernia Movers has completed over 40,000 successful moves for both residences and businesses, local and long distance. Along the way we've learned a lot about the value of professional equipment and the importance of professional attitude.

One thing definitely hasn't changed. We still treat every move as if we were performing it for a personal friend. We also still manage to share a smile or two along the way.

Part of that spirit is reflected in Hernia's decision to stay independently owned and operated. We aren't an agent, broker, or franchise ­ we work directly for the customer, as we have for over 30 years. In our view, that's a big reason our customers keep coming back.


Hi Everybody!

Greetings from Minnesota's latest immigrant and happiest citizen. I'm writing for two reasons:

To thank you and the 2 nifty guys who delivered my stuff unscathed and in perfect condition, and. . .


To tell you that you are now very famous up here. At least a dozen people have told me (individually), "Oh, YOU'RE the fellow whose things came in that huge white truck that said, 'HERNIA' on the side!!!" It caused quite a stir, believe me…and not just in Ottertail. A new acquaintance from Fargo had heard about it. When I tell them your logo, they gasp with delight or an equivalently appropriate response. YOU HAVE SWAYED MENS' MINDS, as well as having totted freight. You should be proud. I am…of you.

Hope everyone at Hernia is well & smiling a lot. That's exactly my condition, and I wish the same for you.

- Harold (Minn.)
Hernia's very first customer