Four floors of space to guard your goods


When a customer has a need to store an item…or a whole household…for a long or short term, Hernia offers four full floors of storage solutions. The Hernia warehouse is solid brick outside, clean and dust-free inside.

Our guardians of goods expertly pack your belongings, to maximize storage space and minimize cost. Your valuables stay warm all winter in rooms warmed by dustless radiant heat, to avoid dirt and moisture damage.

You can store at Hernia with confidence, thanks to a camera-equipped 24-hour security monitoring system that protects against smoke, fire or break-ins. Your items will be safely waiting…and moving them back to your home or office is as easy as a phone call.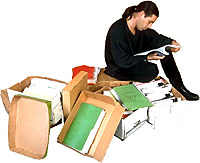 We are writing to you to express our thanks for the great job Hernia Movers did in coordinating and conducting three recent moves we had.

Our first move was to storage in your warehouse. Our second move was to a temporary residence in Illinois and a second load was moved to storage that day. Our third and final move was to our permanent residence in Illinois. We had just had the house completed repainted and walls repaired. Needless to say we were concerned about moving a house full of furniture past all these freshly painted and repaired walls. The guys did not leave a mark! We are also happy to say with these multiple moves and even storage, we experienced no damage. The crew that moved us each time was a pleasure to work with ­ all great guys and very hard workers!

We have used Hernia movers in the past and so have some family members. We have never had a bad experience with your crews.

Moving all day is long very hard work, yet your crew made the move smooth and enjoyable. They are all pleasant and fun guys!

Thank you everyone at Hernia Movers for making a stressful event not only successful but also pleasant! Thanks to everyone at Hernia we have dealt with. Again, the entire staff is very professional, dependable and pleasant to work with.
- Patti & Craig (Mequon)